Our Values
For the last 22 years, we have continuously grown to reach a formidable position by following a set of values and a robust management philosophy. Our Management has always focused on two aspects to improve the standards of the company.
Serving Client Carefully
Creating a Self-motivated Team
As a self-motivated team can only serve the client aptly, we believe in continuous improvisation and empowering our Team with knowledge, professional behaviour and right ethical codes. We strive to improvise and innovate continuously to serve our clients better, efficiently and effectively.
Here are the core values which define the essence of our belief and guide our actions: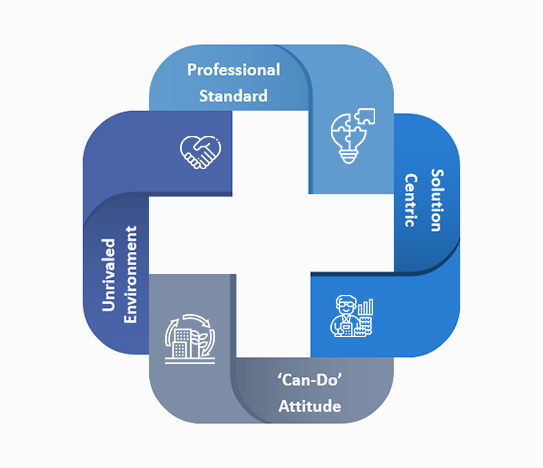 Unrivalled Environment
We strive to create a nurturing environment of respect, sensitivity and a keen sense of responsibility towards our employees. We provide dynamic and enjoyable working environment where people are challenged and motivated to excel and where compensation is fair and the balance between work and family is encouraged.

'Can-Do' Attitude
We don't give up easily on tasks or transactions; we go the extra mile to fetch the best for the clients. We believe in our dedicated approach and take pride in delivering the transaction to the offerings.

Professional Standards
We are dedicated to deliver the highest quality in the execution of all transactions we undertake. We maintain consistently high standards for service so that we can always bring the best collective minds to any engagement or transaction. We have kept our focus on developing good experience in enhancing our industry knowledge and functional experience.

Solution centric
We share a structured problem-solving approach, where all opinions and options are considered, researched, and analyzed carefully before recommendations and actionable plans are prepared. We believe that innovation and continuous improvement are essential to remain competitive that go beyond the customer's expectations.
By applying these values, we have succeeded and grown in our business space and strive to achieve more milestones on a year-on-year basis of our performance. Our value system has strengthened our foundation to help us grow from a 'nobody' to one of the leading players in our domain.