Debt Syndication
Investeurs advises Corporates on an ideal structure for raising funds, leveraged by strong network and expert assistance until the successful deal closure. With our expertise and deep understanding of clients operating cycle and business, we work towards offering the best possible solution to suit client's specific requirements. Our relationship with a variety of domestic and foreign lending institutions helps us to serve our clients in their best interest.
Handled mid- to large-size Multiple / Consortium bankers and its appraisal and financial closure of respective FY enhancement based on client's growth plans.
We offer following services:

Working Capital Finance
Working Capital is a short-term finance to bridge the gap in the operating cycle of business. We specialize in arranging funds for Working Capital needs of our clients by setting up working capital facilities with various Banks and Institutions. This includes Fund-based limits like Cash Credits and Non-Fund-based limits like Letter of Credit and Bank Guarantees at competitive terms. It can be in the form of Enhancements / Takeovers / New FY Appraisal.
The process involves: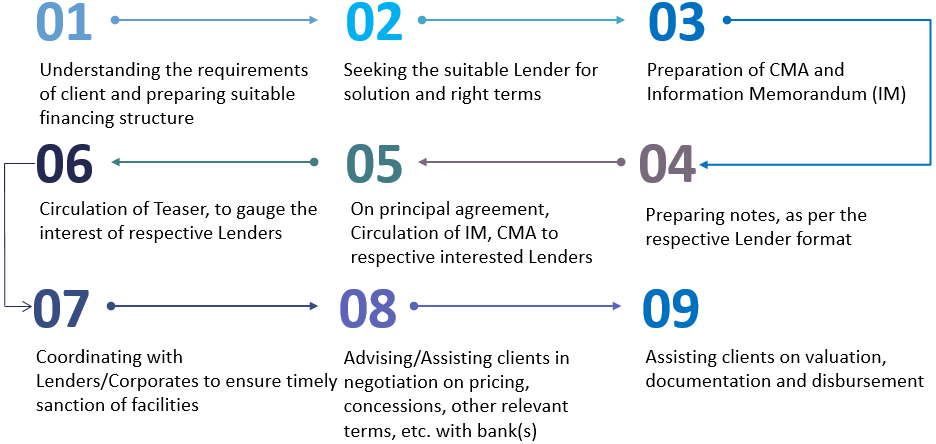 Project Finance
We undertake Project Financing across a wide range of economic sectors like Energy, Education, Hospitality, Healthcare, Warehousing, Metals, etc. We undertake developing Financial Feasibility Reports and assist our clients in creating TEV study reports from various qualified agencies.
We follow the following process: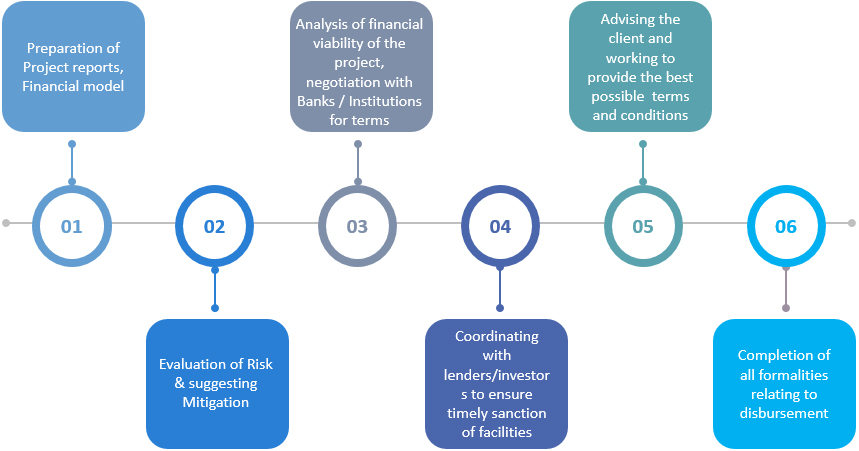 Term Loan
We provide financial assistance for raising funds for our clients for their expansion plans. Term Loans are extended for the purpose of acquisition of fixed assets, viz. Building, Plant & Machinery or Capex for balancing of capacities, modernization of units, etc.
Annual Appraisal of Limits
We provide assistance in performing the Annual Appraisal of Bank Limits under both Consortium & Multiple Banking Arrangement, especially for Mid and Large Corporates. We have the experience of handling Consortium of 8 Banks. We follow the practice in the following manner: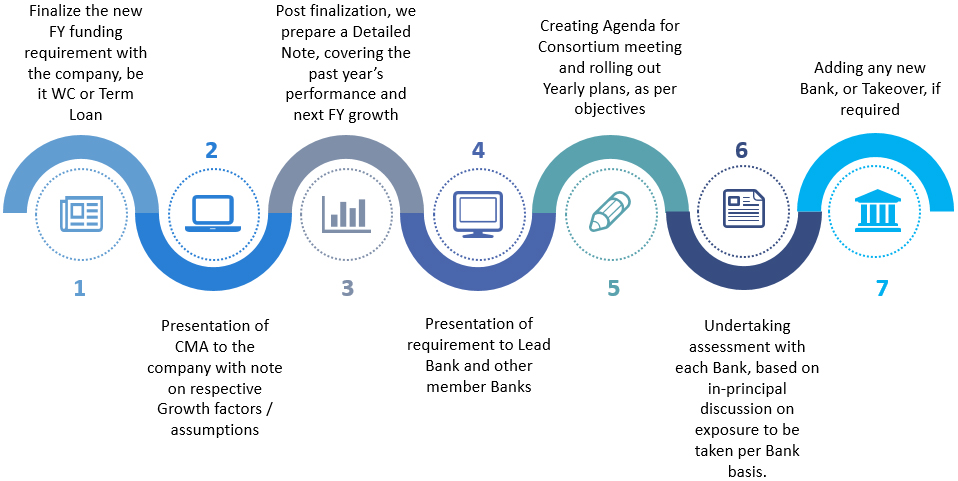 Mortgage Loan
Structured finance is designed specifically to meet unique needs of a Corporates not typically covered by traditional lending. Various funding instruments have been designed to transform cash flows and reshape the liquidity structure of balance sheet through securitization, allowing our clients to finance projects, receive off–balance sheet treatment or increase short–term liquidity.
We provide following products to meet our corporate client's short term requirement and with longer repayment terms to consolidate their free cash flow from their day to day operations and have less burden on co.'s books in growing phase.
Loan against Properties (LAP)
Lease Rental Discounting (LRD)
Loan against property (LAP) are basically loans provided against the security of one's own property. One can get a LAP of up to 75% of the registered value of one's property depending on the lender's policy and the property type and valuation.
We recommend our clients for this product where need of fund is required for Expansion of business, New business ventures, Short term cash flow mismatch, etc.
Lease Rental Discounting (LRD) is a type of Term loan offered against future rental receipts derived from lease contracts with corporate tenants. The loan is provided to the lesser based on the discounted value of the rentals and the underlying property value. LRD consideration is between the borrower (who own the premises), the tenant (who has rented the said premise) and the lender.
We recommend our clients for this product where fund is required to be generated outside consortium / existing lenders portfolio used for any business purpose.
Rating Advisory Service
We provide specialized Advisory services related to credit rating. Our services include identification and coordination with rating agency, compiling information, developing an optimal rating strategy and execution support for upgrading the Credit Rating.